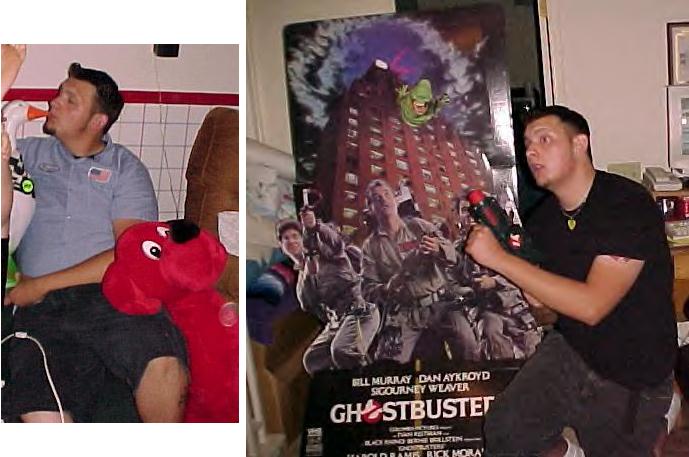 Name: Robert Appel
Number: 33
Instrument: Guitar & Vocals
AIM: RobertTHErocker
Yahoo Messenger: got_s_k_a
Age: 21 ( April 1st 1983 )
Single? Dont remind me
Favorite Band(s): Reel Big Fish, The planet Smasher, The Forces Of Evil, Save Ferris, The Aquabats, The Toasters, Less Than Jake, Goldfinger. Offspring, Lit, ICP, Bloodhound Gang, OLD Blink 182, and i love the oldies ( Kool 101)!
Who do you hate? Good q, i hate emo music, Girls ( not really, but u get it ), Radio Star, MTV, ghetto people, preppy people... um... what else? Oh, i hella hate P.T. Cruisers and posers! I pretty much hate everybody... im a really jealous person.
Have any tattoos? Yes, i have 6! The Ghostbusters 1 log on my right arm, Ghostbusters 2 logo on my left arm, Force Of Evil on my left calve, Reel Big Fish, Less Than Jake, and The Planet Smashers on my right calve!
Favorite Food(s): Cereal, Pancakes, Waffels, and P B & J !!!
Favoirte Places To Dine: Pancake Circus, Subway, Mels, & Panda Express
Coke or Pepsi? Cherry Pepsi
Hobbies? Bowling, Ping Pong, Multiplayer Video Games, Shooting Pool, Basketball, and being emo like Nemo.
Favorite Color(s): Green, Black & White Checkered
Favorite TV show(s): Family Guy, Seinfeld, South Park, The Dave Chappelle Show, MacGyver, Insomniac, The Critic, Jackass, TMNT, & Simpsons
Favorite Movie(s): Ghostbusters, Orgazmo, The Toxic Avenger 4, Jay and Bob Strike Back, Office Space, Super Troopers, The Goonies, & Not Another Teen Movie
Favorite Quote(s):
"When I am down and feeling blue, all I have to do, is close my eyes and think of you, and the world is new." - Save Ferris

"Girls Gone Wild, its not just a title.... its a way of life." - Snoop Dogg
"
It takes heart to make a great cookie" - Famous Amos Cookies
"Girl... you give me Pac Man fever CHOMP CHOMP CHOMP CHOMP CHOMP!!!!!!" - Dave Chappelle
"Cause there's so many fish in the sea, they all look like me, Im just a little tiny fish, thats all I'll ever be"- Aaron B. ( Reel Big Fish )
"Don't knock it til you try it" - Robert Appel
------------------------------------------------------------------------------------------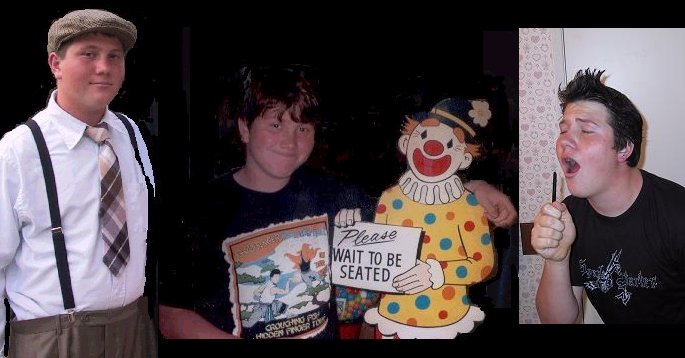 Name: Daniel Joseph Webb
Nick Name: Wil (and yes it is with one L)
Number: 8
Instrument: Trombone, vocals, and every once and a while I like to whisle
AIM: lwebb84041
Age: 16 ( Agust 15, 1987 )
Single? No
Favorite Band(s): Greenday, Offspring, Nirvana, RBF, FOE, DHC, The Aquabats, Planet Smashers, Toasters, Beatles, Doors, The Birds, The Everly brothers, Less than Jake, old No Douht, The Specials, Save ferris, Buck-0- Nine, Sublime, Operation Ivy, Beach Boys, The Ramones, Skatilites, The Suicide Machines, Goldfinger, Punch the Clown, Mighty Mighty Boss Tones, Burning Spear, Hepcats, Vudoo Glow Skulls, and not to mention... I think one of the best artist of all times BOB MARLEY....and his band BOB MARLEY and the Wailing Wailers. Oh yeah and Mili vinili... just kiding because girl u know its girl u know its girl u know its girl u know its girl u know its girl u know its girl u know its girl u know its.... LOL
Favorite Foods: Hmm... turkey sandwhiches, macho burritos, superstar from carls jr, pizza, chicken, mashed potatoes, roasted turkey, soft taco, and to drink jack in a boxes choclat bannana shake, or a frosty. mmm that sounds like a meal
Favoirte Places To Dine: Hometown, Carls Jr, Taco Bell, Del Taco, Jack in the Box, Panda Express, Subway, McDonalds, Mels, & Pancake Circus
Coke or Pepsi? Both on a good night
Hobbies: Writing music, playing music, going to concerts that have music, playing basketball while listening to music, bowlling while listening to music, playing video games while listening to music. jumping on matts trampilne while listening to music, road trips while listening to music, playing soccer while listening to music, and lastly listening to music
Favorite Color(s): Black $ white ska colors, and maybe a little red, blue and fusia
Favorite TV show(s): The Simpsons, Seinfeld, Family Guy, Scare Tactics, Conan, Insomniac, Cribs, Dave Chappelle, South Park, Critic, SNL, and old Mad TV
Favorite Movie(s): Halfbaked, Baseketball, Orgazmo, Silence Of The Lambs, SLC Punks, Kingpin, Girls Gone Wild: Doggystyle, & The Sandlot
Favorite Quote(s):
"My life is my only right all I have is my life" - Bob Marley
"It is better to burnout then fade away" - Kurt Cobain
"In the end the love you make is equal to the love you take" - Beatles
"Hey hey hey" - Rerun
------------------------------------------------------------------------------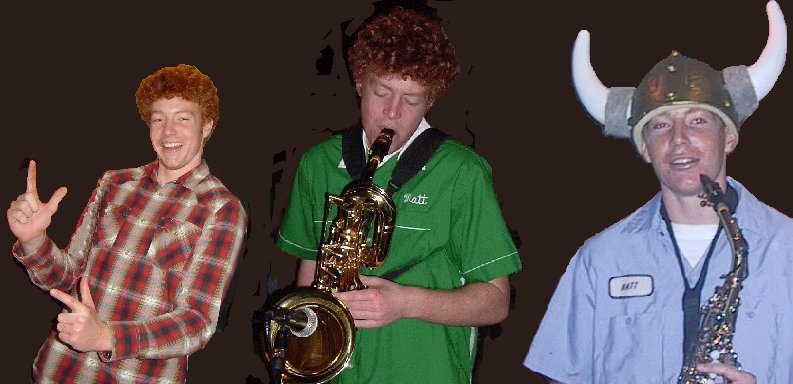 Name: Matt Barrette
Number: 4
Instrument: Saxophone
AIM: wakeboy06
Age: 14
Single? yes... unfortunately
Favorite Band(s): Led Zepplin, ACDC, The Red Hot Chili Peppers, The Aquabats, and The Tosters

Favorite Foods: Any kind of pizza, mexican food, cheeseburgers, spaghetti... I like almost everything!
Favoirte Places To Dine: It doesn't matter as long as they give me a lot of food
Coke or Pepsi? Coke
Hobbies: wakeboarding, riding BMX, jumping on the trampoline, and just havin fun with friends
Favorite Color(s): red (duh!)
Favorite TV show(s): Simpsons, Sienfeld, and cartoons
Favorite Movie(s): All of the Austin Powers, The Hot Chic, and Forrest Gump
Favorite Quote(s):
"If you mess with the bull, you get the horns"

"Go big or don't go at all"
------------------------------------------------------------------------------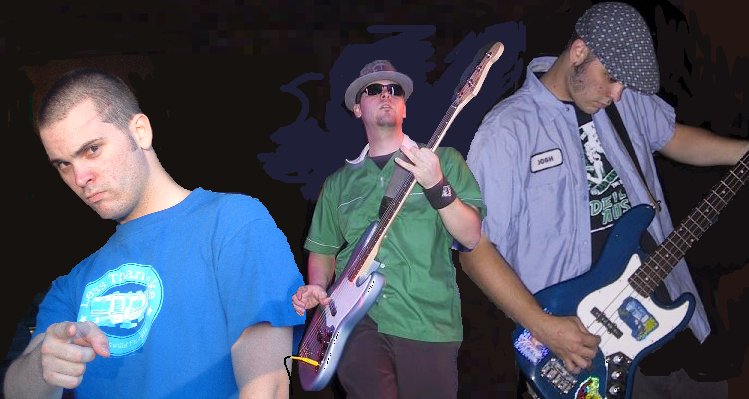 AIM: kommakommayeah
Age: 23 ( March 21st 1981 )
Single? Yep
Favorite Band(s): to name a few and leave out a hundred more im going to say the mad caddies, common rider, alkaline trio, reggie and the full effect, and green day. some older bands are the beatles, chuck berry and the cars
Favorite Food(s): i love all food very much...
Favoirte Places To Dine: taco bell, carls jr and the olive garden and the grill at the arden mall too
Coke or Pepsi? pepsi but nothing is better than a cold heineken
Hobbies? music and uh...music
Favorite Color(s): blue and grey and black and red and sometimes green...mostly blue
Favorite TV show(s): king of the hill and wwe wrestling shows and the stuff on animal planet is prety cool i think and then there's the dating shows, i like elimidate
Favorite Movie(s): i'll have to go with Rob on office space for one of mine and then there's army of darkness and dumb and dumber and spider-man
Favorite Quote(s):
"why do pretty girls carry guns and shoot me just for fun?"

"if a bigger animal had a chance it wouldn't take another glance. it would eat you up"

"I don't wanna hear you say nobody can take her place. what more can i say you don't need her anyways"

"never had a drink that i didn't like. had a taste of you, threw up all night"
-------------------------------------------------------------------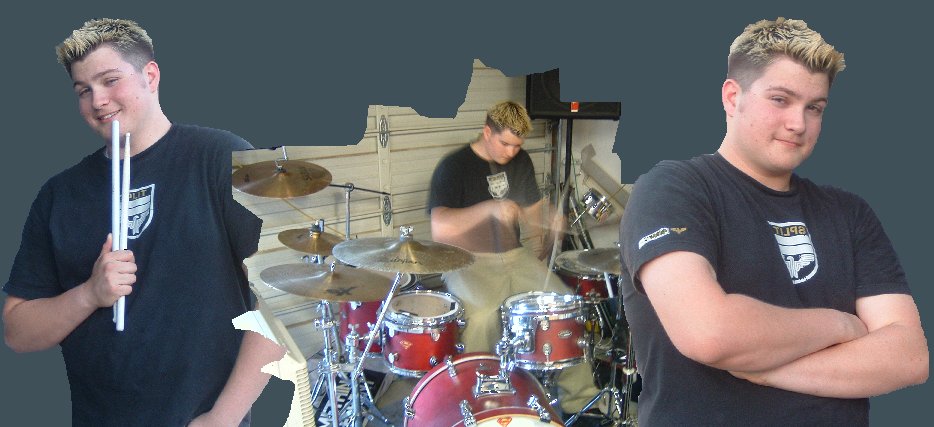 Age: 18 (aug. 16 1986)
Single? taken
Favorite Band(s):Reel Big Fish,No Doubt,Green Day, New Found Glory, From Autumn To Ashes, Thursday, Save Ferris, Yellowcard, Pax 217, Blink182, Metallica, Boxcar Racer, O.C. Supertones, Alkaline Trio, the Used, Mighty Mighty Bosstones, Insyderz, switchfoot........
Favorite Foods: I dont have a favorite i like it all
Coke or Pepsi? Can i choose both.......no?.......then Pepsi
Hobbies: Play music, write music, listen to music.......basically anything that has to do with music. and i like to snowboard
Favorite Color(s): Red, Black, and White, greens pretty cool too
Favorite TV show(s): Alias, JAG, Chuck Norris's Walker Texas Ranger, Macguyver (I cant spell).
Favorite Movie(s): Ocean 11, The Itailian Job, Full Metal Jacket,Kut U up, Twister, The Urethra Chronicles..........
Favorite Quote(s): "I see my job in the band as basically to be on stage as the village idiot, to act like a jakeass, and to make a total fool out of myself whenever possable"
-Make yourself do something stupid, so when you really do something stupid you won't feel so bad.
-I applaud anyone who thinks I'm good-looking and invite them into my world
-"We reserve the right to make fun of every single person on planet Earth"

-I don't get boy bands today. They don't write their own songs, and everything is choreographed from their dance moves on stage to how they have sex with each other after the show

-I've always shopped at Guitar Center. Hopefully you donā€™t get the guy with the really, really long hair that just plays f--king "Stairway to Heaven" in front of you for 45 minutes
-we're just regular stupid people
-"Its the Boobie Monster!!"
-Screw the people that don't understand
-"NIP!!!"
------------------------------------------------------------------------------
Name: Jacob Howard
Number: 64
Instrument: Saxophone
Email: jacobu@gmail.com
AIM: Jacobu9
Age: Legal
Single? Yeah, unless your hot and wouldn't mind a one night stand.
Favorite Band(s): Coldplay, Rage Against the Machine, Disturbed, R.E.M., Dave Matthews Band, Massive Attack, Layo and Bushwacka!, Queens of the Stone Age, Nirvana, Deftones, Metallica, Smash Mouth, SR-71, The Hives, The Red Hot Chili Peppers, The Roots
Favorite Foods: Pizza, Ice Cream, Soda
Favoirte Places To Dine: Jimboys, Round Table Pizza, Baskin Robbins
Coke or Pepsi? What the hell kinda question is that? Coke
Hobbies: Turning Japanese, watching t.v., talking to my friends, talking to losers on IRC who call me a Mexican Jew Lizard and other racial slurs...
Favorite Color(s): Blue
Favorite TV show(s): Smallville, X-Files, Simpsons
Favorite Movie(s): The Matrix, The Matrix Reloaded, The Matrix Revolutions, The Animatrix
Favorite Quote(s):
- #define QUESTION ((bb) || !(bb)) -- William Shakespeare (If you don't get it, don't feel bad)
- "We're all here to do what we're all here to do"
- "There is no spoon"
- "They watch little children getting raped by tenticles. PENIS TENTICLES!!!"
------------------------------------------------------------------------------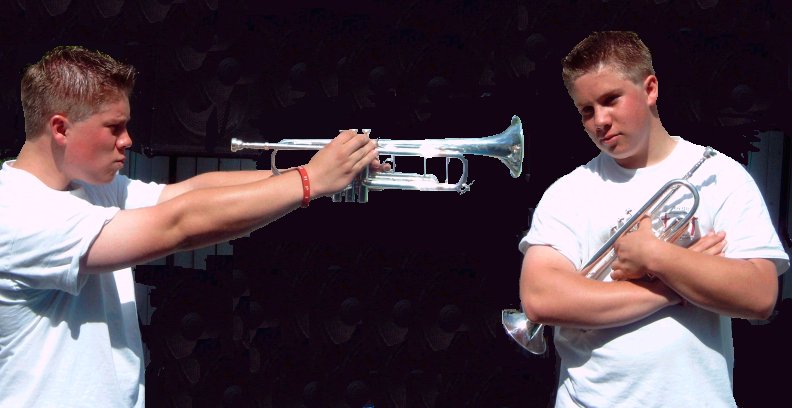 Name: Andy Washburn
Number: 47
AIM: soccermouse0605
Age: 17
Single? At the moment tbut hopefully not in the very near future ;)
Favorite Band(s): pax217, Five Iron Frenzy (FIF), Project 86, Far from it
Favorite Foods: Pizza, Ice cream, Filet Mignon, Western bacon cheeseburger, Escargot . . . (All foods)
Coke or Pepsi? Coke?
Hobbies: Soccer, Trumpet, sleeping
Favorite Color(s): Blue, Black
Favorite TV show(s): CatDog, Seinfeld
Favorite Movie(s): Ice Age, Shrek 1 & 2
Favorite Quote(s):
- see said the blind man as he peed into the wind it's all coming back to me now -Who Knows?
- Your Mother was a hampster and your Father smelled of Elderberry! -The crazy Frenchman in Monty Python and the Holy Grail
------------------------------------------------------------------------------
Name: Good Luck Duck
Bio:
Back in '02 Robert & his brother Christian saved me. I remember it like it was yesterday... it was a hot day, at the Roseville Auction... and these 2 guys walk up and were very excited. They couldn't belive that they found a lite up duck. LOL Anyways, thats that... ive always been a huge fan of ska and ive been the Mascot since day 1! Any ladies out there reading this, email me:
Ska_Jedi_916@hotmail.com
------------------------------------------------------------------------------
Name: Dereck Hoeven A.K.A. "BIG DADDY"
Number: Roadie #1
Instrument:
I do know how to play the Cowbell, Triangle, Tambourine, and the Tuba.
Email:
djkrockpot76@yahoo.com
AIM: BigDMullet
Age: 18 (July 11, 1984. Greatest year Ever!)
Single: Sorry I'm taken. Me and Lefthand are goin' steady.
Favorite Bands: Oh God there are so many to choose from. Flip The Switch, The Police, Phil Colins, Peter Gabriel, N.W.A., ICP, M.C. Hammer, VAN HALEN, Ice Cube, Sevendust, Linkin Park, Tool, Egyptian Lover, George Clinton, Godsmack, Beastie Boys, Pink Floyd, Korn, Sammy Hagar, Afrikka Bammbatta, Metallica, AC/DC, Def Leppard, The Bee Gees, Ratt, and a whole lot more.
Favorite Foods: Corndogs, Burritos, Chicken Strips and Chocolate Milk.
Favorite Places to Dine: Perry's, Jimboys, Wienerschnitzel, La Favorita Something something....the mexican place next to Sharky's on Florin Rd.
Coke or Pepsi?: Big Red
Hobbies: Screwing around on the Internet, Playing video games, Reading Car, Truck, and Motorcycle Magazines, Working on my Truck, Watching MacGuyver, Knight Rider, and Dukes of Hazzard.
Favorite Colors: Green, Purple, Blue, Red, Orange, Black and White.
Favorite T.V. Shows: Hot Rod tv, Super 2nr tv, MacGuyver, Knight Rider, The Twilight Zone (old one), I Dream of Jeanie, Howard Stern, Seinfeld, King of the Hill, Married with Children, TMNT, Transformers, Space Ghost Coast to Coast, Portal on G4 (TV for gamers), Miami Vice, Magnum P.I., The A Team, SNL, Conan O'Brian, Cheaters, Dukes of Hazzard.
Favorite Movies: Beverly Hills Cop, Top Gun,Office Space, Billy Madison, Happy Gilmore, Big Daddy, Tommy Boy, Black Sheep, Beavis and Butthead do America, Back To the Future, Back To the Future 2, Fast and the Furious, The Matrix, Terminator 2, Better off Dead, High Times at Ridgemont High, Ferris Buellers Day Off, The Love Bug, Herbie Goes Bananas, Heribe Goes to Monte Carlo, Bill & Ted's Excellent and Bogus Adventure, Saturday Night Fever, Bio Dome, and Encino Man.
Favorite Quotes:
"He's gonna shit when he realizes, it's SHIT!" - Billy Madison

"He called the shit, POOP!" - Billy Madison

"Where's the Beef?" Old lady on Wendy's Commercial

"We're out of bowls." - Cafeteria lady on "Total" Cereal commercial
Favorite Catch Phrase: "Joanie Loves Chachie" (Hahaha! I love that sh*t!)
Favorite Things 2 Say:
"Gotta respect the mullet!"
"Honk honk donkey bonk!"
"Hey metal head... your in the shallow end!"
------------------------------------------------------------------------------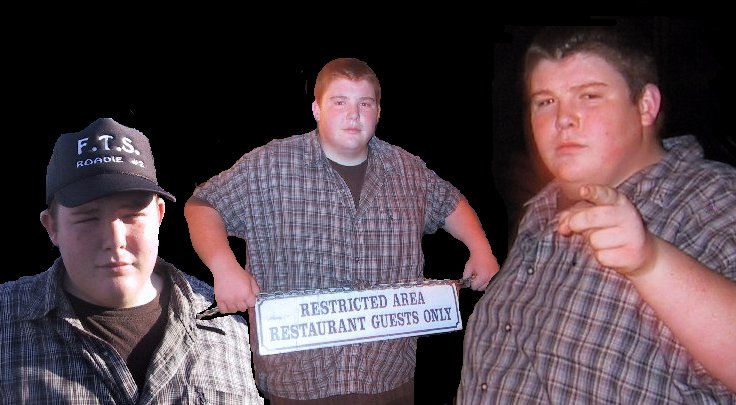 Name: John Bailhache A.K.A Big John or CARTMAN
Number: Rodie #2
Instrument: food
Email: bigjohn2510@aol.com
Age: 17 ( April 25 '87 )

------------------------------------------------------------------------------
Sub -n- Players: