MIKE
---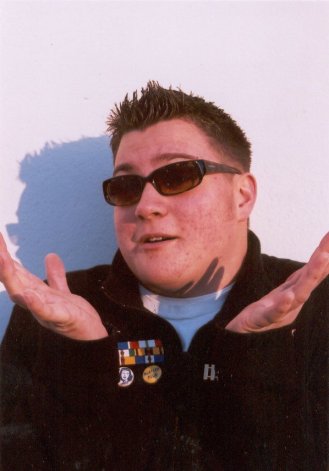 NAME: Mike Koons ( Bucky or Quaker)

NUMBER: 16

INSTRUMENT: Drums

EMAIL: Sn0wB0ard146@aol.com

AIM: Sn0wB0ard146

AGE: Legal...18 as of 8-16-86

SINGLE? Nope..... I have a very very awesome girlfriend!!

FAVORITE BANDS: Blink 182, Suburban Legends, streetlight manifesto, Reel Big Fish, FOE, GreenDay, MXPX, NOFX, Box Car Racer, Transplants, No Doubt, Switchfoot....and so many more thers not alot of bands i dont like unless its hip hop or rap.

FAVORITE FOODS: Where to Start Where To Start!!!....uhm lets see?...Mexican Food

FAVORITE PLACES TO DINE: Carolinas, Adalburtos, Carls Jr. White Swan. Outback, conerstones. and lots more too!

COKE OR PEPSI? Well i drink more coke than pepsi, but i like pepsi 10x more better

HOBBIES? Music, i eat, sleep, and drink it, i also love to snowboard.

FAVORITE COLORS: Red, Green, black , white

FAVORITE TV SHOWS: I dont really have a favorite, i have shows i like to watch but nothing really special.

FAVORITE MOVIES: Twister, Oceans 11 & 12, Italian Job, Spiderman 1 & 2, and lots more.

FAVORITE QUOTES:
"Live Fast, Die Fun" -Travis Barker

" After Silence, that which comes nearest to expressing the inexpressible is music." -Aldous Huxley

"Music is the shorthand of emotion." -Leo Tolstoy

"You live each day once and thats all, tomorrow when you wake up, it may be your last."

" I consider my job in the band to be the village idiot"





Mike's MySpace
BACK
---
©Flip The Switch 2004